Information about the In-Country Clinical Caretaker (ICCC) in Japan.
Dear Client,
"Institute for Drug Development, Inc. (hereafter IDD,Inc.) was established in July 1987. We have been entrusted with tasks related to clinical trials in Japan with a main focus on Phase 1 study. At the beginning of the establishment, IDD had been focusing on support services in our affiliated clinical trial site. In 1998, IDD was reborn as a CRO with members who have many experiences of management and practice of clinical trials. To date, as the most experienced CRO in Japan, IDD has occupied a unique place in the Japanese CRO industry for over 20 years. A competition with the large-scale CROs is not our business concept. IDD provides tailor -made services utilizing a strong domestic network, cultural advantages, and its caring nature towards the clients. IDD has been operating, focusing on the CRO businesses related to clinical trials (e.g., clinical pharmacology studies, bio equivalence studies, etc.) conducted in the cooperative medical institutions. Because we have many experiences in clinical trials in Japan as a representative of sponsors or a clinical trial site, we can provide various kinds of information for overseas clients who are planning a clinical trial in Japan as an ICCC. If you have any questions on the implementation of clinical trials in Japan, please feel free to contact us anytime.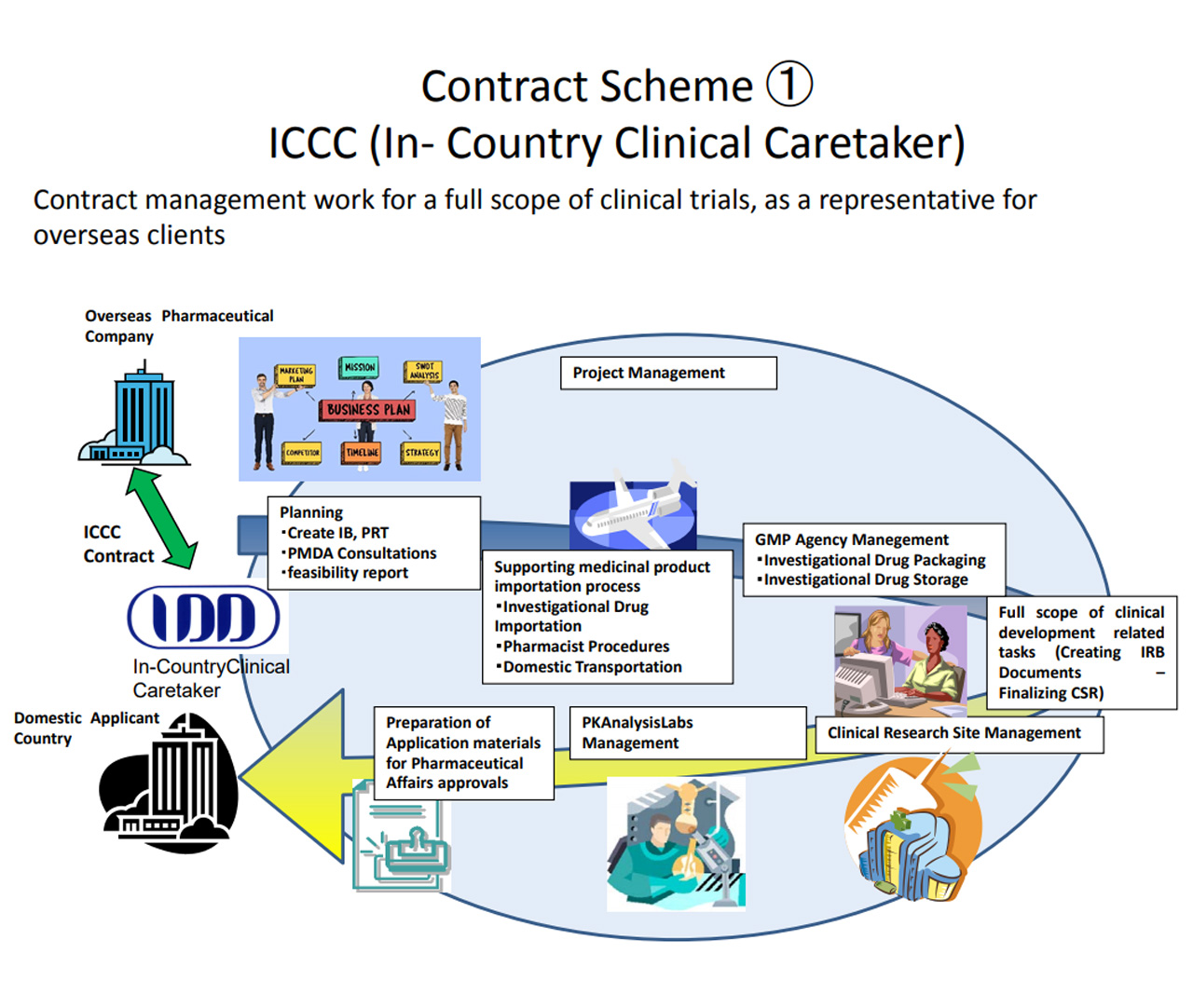 Topics commonly raised by our clients in their questions about the clinical development in Japan:
Japan's regulatory requirements
Manufacturing of investigational drugs
Logistics and customs procedures for investigational drugs
Clinical trial site
Management of the clinical study
Analysis facility
Clinical study report
Responding to the regulatory authority (PMDA), and more!
As an experienced ICCC, closely coordinating with relevant agencies, IDD will provide necessary solutions for our clients in a responsive manner at a competitive price. Please feel free to contact us. Contact: info@idd-inc.co.jp